Catholic Schools Week 2023 Activities
Theme: Faith, Excellence and Service
Dates: January 29th to February 4th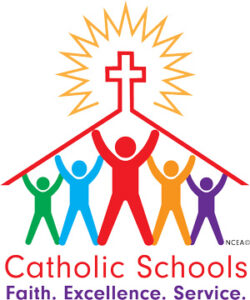 Sunday: Celebrating Our Parish
Catholic Schools benefit from the religious guidance, prayers and support parishes provide.
St. Anthony Grade School (SAGS) will begin Catholic Schools Week (CSW) by serving as the liturgical ministers at the 9:15am mass. We will also have students provide the "Welcome and Witness" as a short introduction to Catholic Schools Week. We look forward to seeing parishioners and Grade School families at this mass!
Also, PAWS (Parents Active with St. Anthony) will help kick-off Catholic Schools Week with a Bingo Bash at the Parish Center from 1:00pm-3:00pm.
Monday: Celebrating Our Volunteers
Catholic Schools would not be possible without the important work of the many parent, grandparent, alumni, and parishioner volunteers.
SAGS students and staff will celebrate a Renewal of Consecration to the Most Sacred Heart of Jesus & The Immaculate Heart of Mary service performed by Fr. Michael Berndt to "kick off" our CSW celebration. Students will enjoy a dress down day and collect one dollar donations to go towards gift cards for our seminarians studying to become future priests.
• Students will be allowed to wear jeans and a spirit shirt for a dollar to go towards gift cards for our seminarians.
Volunteers will be invited in for the consecration and to be recognized for their contributions to our school and their support in providing our Catholic School Education.
Tuesday: Celebrating Our Students
Schools celebrate students by planning enjoyable and meaningful activities for them.
K-8 students will enjoy a Fire & Ice show presented by the Mad Science Group out of St. Louis. These events will be a fun interactive way for students to explore the properties of Fire & Ice, and enjoy the afternoon.
Wednesday: Celebrating Our Vocations
By focusing on faith, excellence, and service, Catholic Schools prepare children to use their God-given talents to the fullest.
K-8 students will join with our other Deanery schools and Bishop Paprocki to celebrate our traditional Deanery mass at St. Anthony High School at 10:00am. Students will return to school for fun Faith based activities in their classrooms and finish the day in the gym for a friendly game of "Are you smarter than a 5th grader", with Fr. Rankin, Sr. Clementia and Fr. Michael Berndt.
• Students are asked to wear a red school uniform shirt for mass this day.
• Staff asked to wear a red uniform shirt or a red shirt for mass this day.
Thursday: Celebrating Our Nation and Community
Catholic Schools from around the nation show their appreciation for and value of Catholic education to local, state, and federal leaders. Celebrating Our Community – A central aspect of Catholic education is learning the importance of service to others.
To celebrate our national and community heroes, we have invited members of different local charitable organizations to discuss what, how and why their organizations do what they do, and the impact they have on the community.
Friday: Celebrating Our Faculty, Staff
Catholic Schools would not be possible without the important work of faculty and staff.
SAGS Student Council will provide breakfast for faculty and staff. Staff will return the gesture by organizing grade sectional activities in the gym for students and in specified classrooms for "Teacher Swap" following announcements.
• Students will be permitted to wear athletic sweats (no pjs, spandex, leggings, or anything else form fitting) and a St. Anthony t-shirt/sweatshirt in preparation for gym activities.
Saturday: Celebrating Our Families
Parents, guardians and other family members play a vital role in Catholic education, instilling values and expectations for academic excellence and faith in their children.
St. Anthony will challenge families to take a couple of hours on this day and spend time doing a fun-filled family activity. Parents should consider the needs and interests of their children, incorporate prayer and faith, and do something fun together!